---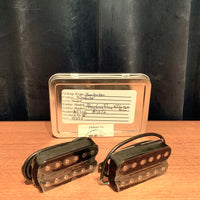 In stock and ships within 1-2 days

MAGFRAG "Praxis" humbucker set
(Black, 53mm bridge, 4-conduct. wire)

Proudly made in the USA, MAGFRAG pickups represent a modern update on the classic PAF humbucker of the 1950s. MAGFRAGS are a dual coil, three-magnet (rather than a typical single bar magnet) electric guitar pickup with superb clarity, detail and warmth for a stunningly direct sound with breathtaking realism.  
Multi-magnet construction, Alnico II (1st and 2nd strings), Alnico IV (3rd and 4th strings), and Alnico V (5th and 6th strings), and Four Conductor wiring make MAGFRAG pickups exceptionally flexible. And with vintage-style plain enamel insulated coil wire (purple wire) and a multi-step CAD programmed and computer controlled wind process, MAGFRAG pickups capture anything from a tickle on the strings to roaring shred without unwanted muck or undesired coloring to your sound. With MAGFRAG pickups installed, every nuance of your playing will pop out of the mix with ease.

BALANCED, PUNCHY AND DETAILED
The PRAXIS humbucking pickup gets its inspiration from the legendary tones of 1959/1960 era pickups. Clear, detailed, warmth with balanced overtones and punch are how we describe the tone. The PRAXIS is the perfect choice to infuse your tone with some magic without straying too far from vintage flavors. The neck version eliminates tubby low end while remaining full and pairs perfectly with the PRAXIS, PRAXIS+, RIOT BUCKER™ and RIOT STUDIO™ bridge pickups. 4-conductor wiring is standard.
Neck 7:7 kOhms
Bridge 8.9 kOhms
In stock and ships within 1-2 days